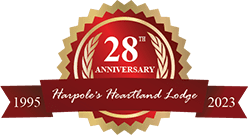 Lodge & Cabin Rentals In Illinois
Renting a lodge or cabin exclusively for you, your group, business, or family can be a wonderful experience. Located in Western Illinois and situated along the scenic Mississippi River bluffs, our Midwest resort is home to eight lodges and cabins, each of which can be rented privately. Our luxury lodges and cabins offer the most amazing views, include deluxe suites with hot tubs, conference facilities and provide all the comforts and coziness found in our Original Lodge. If you are looking for a lodge or cabin to escape from the fast pace of Chicago, the busy streets of St. Louis, or anywhere in-between, these are a perfect choice for your vacation getaway or business retreat. These luxury lodges and cabins are the finest in Illinois, Missouri and the entire Midwest!
If you would like to reserve exclusive use of one or several of our luxury lodges or cabins, please review the five choices below and reserve them either online or by calling us.
If you do not require an entire lodge or cabin rental, you are welcome to choose a room or suite in any one of our three lodges and reserve it privately. (Heavenly View Cabin rooms cannot be reserved individually.) The resort side of our web site contains more detail on reserving individual rooms along with meals and activities.
Hunters visiting in the fall stay in The Original Lodge unless upgrading to another lodge or cabin.
Top Lodge & Cabin Rental Ideas
Whether you are looking for a honeymoon cabin or a cabin for your anniversary, our private luxury cabins are perfect for your romantic getaway. Curl up on the couch and enjoy the cozy fireplace, soak in the heart shaped two person hot tub, relax on the ultra-comfy king sized bed, take in nature and enjoy the outdoors on your private deck, or watch the stars and share stories as you sit around your own camp fire.
Renting a lodge or cabin with a group of your friends is a great way to spend time together. Not sure who to include in your group of friends? Think about planning a getaway with all those couples in your life that always hang out. An exclusive lodge or cabin rental is perfect for that girls getaway that you and your girlfriends keep talking about. Or think about a private lodge or cabin rental for some male bonding time. Playing cards, pool, and hanging out on the deck are all popular activities when renting a private lodge or cabin with your friends. Consider an exclusive lodge or cabin rental for gathering all those friends that have moved or relocated throughout the years. Share your favorite lodge or cabin page on Facebook, tag your friends and you will fill the lodge or cabin of your choice. Our lodges and cabins provide the perfect setting for relaxing and catching up with friends. You will share great memories and create many more that will last a lifetime.
Family reunions are one of the most popular reasons to rent an entire lodge or cabin. Spending quality time with family is priceless and there is no better setting than having a lodge or cabin privately rented for your entire family. Renting your own private lodge or cabin also takes the guess work out of whose house the family reunion should be held at. The expansive decks attached to our lodges and cabins provide a perfect setting for your family reunion photograph. Our lodges, cabins and resort are centrally located in West Central Illinois and are easy to travel to for family members who may live anywhere in the country.
Hosting your wedding in one of our lodges or cabins will make your special day truly unique. You may even want to utilize all four of our lodges and cabins at our resort for your wedding – providing many options for the location of your wedding ceremony. A destination wedding at Heartland Lodge will certainly be one that you and your guests will always remember. Our lodges and cabins are also great places to hold bachelor and bachelorette parties, rehearsal dinners and bridal showers. We are confident that you will even return to celebrate each wedding anniversary.
Many of the companies that rent one of our lodges, cabins, or entire resort, for their business meetings and retreats tell us that the setting is perfect and encourages profound results. Holding your business retreat in an exclusive location can result in team building, creativity, and break-through.
Making one of our lodges or cabins home base for your family vacation is the best of all worlds. Create memories that will last a lifetime by renting a lodge or cabin exclusively for your family. Resort activities, such as ATV riding, horseback riding or shooting sporting clays will be popular with the entire family. You can also venture off the resort and see the many local attractions that are an easy drive away – making them perfect for a day trip.
Over the years, ATV riding groups have grown in popularity at our resort. Many ATV groups book an entire lodge or cabin privately for their group to enjoy and will rebook before leaving each year to ensure they have the same dates the following year. Many of these groups have been coming every year for 10+ years!
Many churches have found our lodges and cabins as the perfect setting for many different types of retreats and functions. Retreats for men, women and married couples are just a few of the popular reasons churches use our lodges and cabins for retreats. Our lodges and cabins would also provide a great location for your next youth or pastoral retreat. The tranquility and serenity of our resort will be just a couple of the reasons you will book your next spiritual retreat with us.
Scrapbookers have found our lodges and cabins a perfect place to host their scrapbooking retreats. Our spacious 1,500 square foot banquet room makes it a perfect location for everyone to spread out for hours of scrapbooking fun.
Reserving an entire lodge or cabin with friends or family is the perfect way to celebrate the holidays. An exclusive lodge or cabin rental is the perfect way to ring in the New Year. Three-day weekends, such as Memorial Day and Labor Day are great for that little getaway with family and friends. The Fourth of July is also a great time to book an entire lodge or cabin and enjoy the spectacular fireworks displays that you'll be able to view from the Mississippi River bluffs. Each lodge and cabin offers plenty of activities for everyone to enjoy and not having to drive anywhere makes it ideal for everyone.
There are many other reasons to rent a lodge or cabin exclusively for your group. Girls getaways, bird-watching groups, sporting clay shooters, sales groups, executive retreats, and hunting excursions are just a few of the reasons to get a group together. Our lodges and cabins are the perfect private setting for your group.