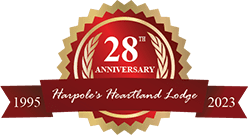 Don't Standout In A Layout Blind
Excited honks crashed the air waves as we responded with calm groans and single clucks back to the group of geese circling our spread. Just a few yards closer is all we really needed for the birds to be in range but as they circled one last time, they flared and flew away with haste.  Has this ever happened to you?  I bet it has.  Any water-fowler knows the sinking feeling of seeing birds flare.  This also leaves you scratching your head trying to figure out what the heck just happened.  You look at the spread then at your blinds.  If I were a betting man, I'd bet money on the beautiful layout blind you bought from the store look like a zits on the forehead of a teenager- they sticks out.  
Brushing in your layout blind properly takes more than a few cornstalks to make yourself invisible from the eyes in the skies circling your spread.  I've hunted with people who do not understand this concept and in turn are the root cause of flaring birds. 
Spa Treatment:  Regardless of how dull the material manufactures use on the layout blinds,  the first step is to create a solid base layer of dirt and cut that shine out.  From old waterfowl hunting videos I've watched in the past, make mud or get mud from a swamp and give your blind an inaugural mud bath.  Really work several layers of the mud over every inch of the canvas and set it out to dry.  This is the natural primer for the rest of the masterpiece.
Let It Weather:  The Weatherman Waterfowler- Tyler Breen, a rising star in the water-fowling world tells me he lets his blinds sit outside all spring and summer (in a safe place obviously) in order to be subjected to all mother nature has to offer.  Rain, sun, wind beat on the blind and knock the natural shine out.
Natural Ingredients:  Use debris from the immediate field you are hunting in.  If you are hunting a grass field one day, they hunting corn the next day, make sure to remove unnatural materials from the blind.  Layout blinds have nifty little holders for natural brush.  I've found to hide layout blinds the best, I must cram each of these little holders full of material.  If hunting a cornfield, make sure you have corn stalks not just folded over your blind but have stalks sticking up from the sides and back of the blind standing alone.  Follow the natural direction of the corn stalks, like going with the grain when splitting wood. 
Cover the back:  One of the most over looked parts of brushing in a layout blind is the very back where your head sticks out.  Do not forget to properly cover your head.  What I mean by this is? Have material sticking up above your head and thick enough, small turns of your head will not be seen from birds approaching from your six.
Take it down:  Sometimes, especially in early season situations, blinds are difficult to hide as in field brush is scarce like in hay fields.  The Weatherman told me in this situation to not fully set up the layout blind's metal structure.  Rather just crawling into the blind flat on the ground using a backpack as a head rest.  This will place you closer to the ground which cuts down on shadows, makes brushing far easier, and gives the birds less to pick out from the air.
We use lots of time and effort into making sure our spread is just right.  Don't forget to pay attention to what your blind looks like, it can be the difference between making it rain and going home with a box full of loaded shells.
Jason Reid
Last Updated: September 30th, 2014