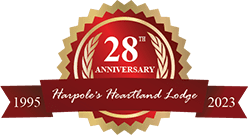 Hunting Outfitters
Hunting Outfitters in Illinois
Harpole's Heartland Lodge prides itself on being the premier hunting outfitter in the nation! Located in West-Central Illinois, we are a full-time dedicated deer, upland, waterfowl and turkey hunting outfitter. Heartland Lodge Outfitters continually strives to provide the best hunting experience possible that a hunting outfitter can offer.
Illinois Hunting Outfitter That Offers Once in a Lifetime Experience
What's the difference between our hunting outfitter and all the other hunting outfitters throughout the nation? Our #1 focus for our hunts is client satisfaction. We are a low-volume, high-quality outfitter that chooses to "stay small" in order to deliver 100% hunter satisfaction. Many outfitters come and go, there's a reason Heartland Lodge has been outfitting for over 28 consecutive years!
---
Visit Heartland Lodge for legendary Pike County, Illinois deer hunting, in one of the finest whitetail deer hunting lodges & outfitters in the country! Located between the fertile Mississippi and Illinois River drainages, Heartland Lodge sits amongst the best and most fertile ground throughout the nation. The four key ingredients to having a quality deer herd are all found at Harpole's deer hunting lodge & outfitter. You must have genetics, food, habitat, and a good age structure to produce monster bucks and quality whitetail deer hunting. The genetics here in Pike County Illinois are the best in the country. The food and habitat are optimal for growing the biggest bucks throughout the nation. With a strict management program in place to preserve growth, Heartland has it all when hunting for incredible whitetail bucks.
Click here to learn more about our guided whitetail hunts >>
---
Enjoy upland bird hunting at Heartland Lodge Outfitters. We have the best wild quail hunting and pheasant hunting in Illinois! Hunt for native bobwhite quail and pheasant behind some of the best hunting dogs in the country. Our German Shorthair Pointers and English Pointers are second to none and love to hunt! An abundance of native prairie grasses mixed with fields of milo present the ideal habitat for upland bird hunting. No need for you to work the dogs, carry the birds, and dress the game on our guided hunts. At Heartland Lodge, you'll have the assistance of our friendly bird hunting guides. This Orvis-endorsed wing shooting operation is one of the finest in the country and the only Illinois hunting outfitter endorsed by Orvis and Shooting Sportsman.
Click here to learn more about our upland hunts >>
---
Heartland Lodge and Illinois waterfowl hunting cannot be compared to any other duck hunting area in the United States. Hunt diver ducks such as canvasbacks along the great Mississippi & Illinois Rivers, or Mallards, Wood Ducks, and Teal in the flooded bean, corn and millet fields. In recent years we have expanded our waterfowl hunting outfitter season with the spring conservation snow goose hunts that offer no limits, no plugs, and lots of action! Many of our hunters enjoy an upland/ waterfowl combo hunt for a multi-species hunt!
Click here to learn more about our waterfowl hunts >>
---
Heartland Lodge was designed with you, the hunter, in mind. Enjoy turkey hunting in Pike County, Illinois. An abundance of CRP fields mixed with fields of milo and hardwoods present habitat ideal for turkey hunting. Turkey hunting at Heartland is a favorite among hunters visiting the lodge. This area has a long tradition of turkey hunting. You will enjoy this turkey hunting lodge with three hearty home-cooked meals every day. After the hunt, relax next to the large stone fireplace in our Great Room or enjoy a game of pool in our recreation room. The relaxing atmosphere of the lodge is something you will look forward to after each full day of hunting.
Click here to learn more about our guided turkey hunts >>
---
Sign up for our Hunting Outfitter emails to be the FIRST to receive latest scouting & trail cam photos, hunting tips, dates and discounted hunts! 
---
Last Updated: January 27th, 2023