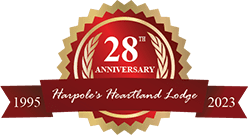 Self Guided Upland Hunts
For over 25 years, upland hunters have traveled to Harpole's Heartland Lodge to experience the finest wingshooting in the Midwest. With its open prairies, field edges, timber ridges, our 1,500 plus acres boasts large numbers of upland birds, great beauty, and an unmatched upland hunting experience.
We have many different upland farms to explore.  This ensures you have a very private wingshooting experience regardless of if you are hunting solo or bringing a group! While hunting on the farms you are likely to find native ringneck pheasants and bobwhite quail in their natural habitat. During specified season, rabbit, woodcock, snipe, rail, and mourning dove may be harvested.
We have managed our farms for generations and this guarantees your upland hunting experience exceeds the quality of any other wingshooting venue in the Midwest. Bring your pointer or flusher or use a highly trained lodge gun dog and guide to experience the best upland hunting anywhere!
Self Guided Upland Hunt Package
These hunts are custom made for you and your party.  There is a three-pheasant minimum per hunter for each hunt.  Extra birds (pheasant, quail & chukar) can be added to any hunt for an extra cost.  We limit the maximum number of hunters in a single field to 4.
We also offer fields for dog training.  There is a minimum of 3 pheasants that must be purchased.
Pheasants $25
Chukar $12
Quail $10
These hunts are available the entire month of September and December 20th thru March 31st.
Bird processing not included but can be provided for an additional charge.
Additional Options