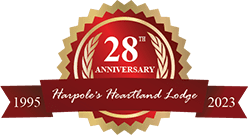 Luxury Accomadations & Meals For Upland Hunters
One of the biggest differences from Harpole's Heartland Lodge and other upland hunting outfitters & lodges is our luxury accommodations and amazing home-cooked meals! There are many upland hunting preserves and upland hunting outfitters. Some of them have good birds and dog work. But how many have the option for 5 Star Accommodations and a meal plan that will have you coming back in the off season just for dinner!? Far and few between! Our luxury hunting lodges offer amazing views with hot tubs, fireplaces, game room and more!
Prairie Ridge Luxury Lodge
Prairie Ridge Lodge is named after the prairie grasses that surround the resort that hold native quail and pheasants. This lodge is also known as our luxury wing-shooting lodge as it has over 10,000 square feet of luxurious warmth and features seven luxury suites with hot tubs and fireplaces. All seven of the luxury suites are designed the same but each one is decorated with its own theme, each theme having significant meaning related to the lodge property. The focal point is the hand-made chandlers in the dining room. Two feature and upland theme and one a waterfowl theme.
All seven luxury suites in this lodge feature:
Ultra-comfy king-size, triple-sheeted canopy bed
Private bath with hot tub
Fireplace
Comfy sitting area & daybed
Flat screen TV
Mini refrigerator
Direct access to the deck right outside your door
Gun racks and plenty of storage for gear and equipment.
Check out one of our upland hunter's favorite luxury suite options- Pheasant Ridge Suite & Covey Suite.
Each room also has its own private Adirondack chairs on the deck where you can relax first thing in the morning enjoying a cup of coffee before heading out to the upland fields. After a long day afield, relax on the deck with your favorite beverage or bottle of wine. The ultra-comfy beds have become an attraction themselves!
Sunset Valley Lodge- Great for Upland Groups
Sunset Valley. The name of this lodge says it all. The view from the expansive rear deck as the sun sets over the horizon of the Mississippi River bluffs will take your breath away. This 10,180 square foot luxury upland hunting lodge features seven suites and rooms. This lodge has a great outdoor entertainment area along with a game room downstairs. Perfect for a upland groups looking for a private lodge. Sunset Valley Lodge is located 1 mile from the main lodges.
More information on Sunset Valley Lodge
Luxury Upland Cabins -With Fireplace and Hot Tub!
Private Luxury Cabins
Enjoy a private luxury cabin that was built with upland hunting couples in mind. Each cabin is decorated with its own unique theme. All cabins are carefully crafted with knotty pine and cedar walls, fifteen-foot vaulted ceilings, hand-carved Old Hickory furniture, fixtures and appliances. Each cabin with hot tub and fireplace also features an ultra-comfy, king-size bed, large 4K HD television with 4K Blu-ray player, relaxing private deck with barbeque grill, kitchen, and private fire pit to roast marshmallows or to make your own s'mores. When staying at these upland cabins, hunters can easily walk to the main lodge.
More information on Private Luxury Cabins
The Original Lodge-Whitetail Suite
The Whitetail Suite features a king-size, triple-sheeted canopy bed, a private two-person hot tub, and fireplace. This suite is decorated in a Whitetail theme after the beautiful whitetail deer that are abundant around the resort. This room also has French doors leading to a walkout porch with a porch glider – perfect for unwinding after a long day of wingshooting.
View Pictures of the Whitetail Suite.
Amazingly Gourmet- Homecooked Meals
The meals that the lodge offer is literally the icing on the cake for making it an excellent upland hunting experience. Enjoy made from scratch, hearty homecooked meals every day you hunt! You will not leave hungry from the dinner table!
Last Updated: October 25th, 2022