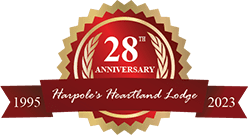 Fall Foliage in Full Color!!
Because of my work schedule, I am not always able to take advantage of the numerous fall color drives and festivals (Pike County Fall Color Drive, Spoon River Valley Scenic Drive, Clarksville Applefest and the Louisiana Country ColorFest) that are available in our area this time of year.  So, this past Monday & Tuesday, I grabbed the camera and a suitcase and headed out on my own fall drive.   I had made previous arrangements to spend Monday night at Harpole's Heartland Lodge and my timing couldn't have been better.  I was lucky enough to see some of the best fall foliage that I have seen in several years – not only on my way to the lodge but at the lodge itself!
Fall pictures have to be some of my favorites – both for viewing and for taking – and with the peak fall colors being this past week, the opportunities for tons of fall color photos were right there in front of me!  Definitely a budding photographer's dream!  And if you go to any tourism or vacation web site, photos of fall colors are everywhere so I'm obviously not the only one that enjoys this time of year.
So, what are the autumn colors that make this a great time of year for pictures of fall foliage?  Deep reds, yellows, oranges highlighted by the sun provide the perfect backdrop of autumn foliage.  And I could have taken pictures all day (and night) but unfortunately, there are only so many hours in the day.  I took a drive a little south of the lodge to capture one of the many barn quilts that can be seen on the Calhoun County Barn Quilt Project (www.riversandroutes.com/enjoy-calhoun-county/).  Dan and I happened to run across a few of the barn quilts on our way home from the lodge in September, but it looks like there are approximately 82 of the hand-painted quilts on barns and buildings throughout Calhoun County so that will have to be another project (and blog) for another day.
Now keep in mind that when we go to the lodge, the autumn colors are still several weeks away.  So, once I checked in at the lodge and settled into my room, I grabbed my camera and tripod and headed out to check out the signs of fall at the lodge.  All I can say is WOW!  If we thought the lodge was gorgeous in September, I think it's even more incredible with all the fall colors and decorations surrounding it.  Keep in mind that Heartland is nestled in the bluffs of the Mississippi River, so the views are spectacular – no matter where you're standing!  From the deck outside my room to the sunset to the view from the new "Snack Shack" to my favorite view on the property, the colors of autumn were abundant.  Add to this the fall decorations that Wanda and her staff have put around the property and you have a fall paradise just waiting for you.
Now this is hunting season at the lodge, so I was lucky enough to visit with several hunters – both whitetail and upland hunters – and all who were at the lodge for the first time.  There were a couple of deer hunters from Delaware who had been there almost a week, a father-son team that had just arrived from Pittsburgh and a couple of pheasant hunters from Virginia.  And on Tuesday morning, a group of 10-12 deer hunters from Michigan arrived for a hunting trip.  The group arrived sporting Heartland Lodge gear, so I knew that this was NOT their first trip.  They came with trucks and trailers – ready to drive home with their trophies.
The meal schedule is a little different during hunting season, but the food is just as good – and as plentiful as ever.  And what would fall be without a Thanksgiving feast?  Dan & I have always had wonderful food at the lodge – he's always said, "If you go away hungry, it's your own fault."  But Monday night's Thanksgiving dinner has to be one of the best meals I've ever had while a guest at the lodge.  Turkey, dressing, mashed potatoes with gravy,
green beans, and salad were served along with pumpkin pie for dessert (of course!)  I don't know if the guys were just hungry, or if they really enjoyed the food, but dinner conversation was at a minimum!  I would have to think it was the food!
Breakfast and lunch on Tuesday certainly did not disappoint either.  Scrambled eggs, pancakes and sausage along with a beautiful chocolate chip coffee cake satisfied the breakfast group while cheese soup in a freshly baked bread bowl with a meat & cheese plate provided the lunch that we all needed.  Thank you, Stephanie, for your time and filling our tummies!
As wonderful as the meals were, my main goal was to capture some photos of autumn at the lodge.  So, after dinner, I headed out to try some nighttime photography – an area I still need to work on but hope to master one of these days.  And knowing that the morning light would highlight the fall leaf colors differently than the afternoon light, I headed before breakfast & lunch with camera in hand.  I honestly don't think I could have had two better days for photographing all the trees with their fall colors.
I could have easily taken fall color pictures all day, but I eventually had to head out to work an auction that afternoon.  I filled up one memory card and had to charge my camera batteries a few more times than normal but it was definitely worth it.  The lodge is absolutely gorgeous and decked out for fall – I can hardly wait to see it in a blanket of snow this winter.  Thank you to Gary, Wanda, and the entire staff for their hospitality.  No matter what my purpose is for being at the lodge, I always feel like I am at home – one of the many reasons Dan and I keep returning.  I only wish he could have been with me to enjoy it during this time of year – maybe next time!
I hope you enjoy my pictures – check out more of them on Harpole's Heartland Lodge Facebook page.  Oh, and do you want to know what the hunters had to say about THEIR experience?  "It's wonderful!"  "The food has been wonderful."  "The guides are great!"  Get the picture?
Lori Biehl
Twenty (+)-Year-in-a-Row-Guest
Last Updated: August 15th, 2023