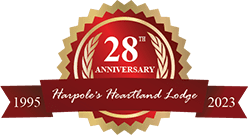 Father's Day Getaway at the Lodge
It's that time of year again – grills are out, people are setting up lawn furniture, kids are spending their summers at the pool.  Oh yeah…It's also almost Father's Day!  Maybe it's because it falls between Mother's Day and the 4th of July, but it sure seems like Dad's Day doesn't get the fanfare it deserves.  After all, our dads do a lot.  I'm all grown up now with a real job and a place of my own.  Hey, I've even gotten pretty good at fixin' things and changing air conditioning filters.  Even so, I still have to give my dad a call every now and again when I need advice on anything from planting a garden to cooking steak just right.  After all these years, my dad is still the one with the answers…
Ultimately, Father's Day has never gotten the attention that Mother's Day does.  Maybe this has something to do with its origins.  In the US, the holiday was founded after Mother's Day.  Sonora Smart Dodd created the holiday in 1910 to honor her Civil War Veteran single father who raised six children.  It was first celebrated at a YMCA in Spokane, Washington, and while Dodd intended for the holiday to be celebrated Jun 5 the pastors needed more time to prepare the sermon.  So, they celebrated on the third Sunday of June instead.  The holiday fell into obscurity when Dodd stopped promoting it in order to attend school.  It wasn't until she returned to Washington in the 30's that she resumed publicizing Father's Day.  It took quite a while for Americans to accept and enjoy the holiday as many thought that it was just meant to capitalize on the commercial success of Mother's Day.  Finally, in 1972 President Nixon signed a bill into law that made Father's Day a national holiday, giving dads all over the US the recognition they deserve.
For years Father's Day has meant macaroni glued to paper or ugly ties.  One time in high school, my sister and I split the cost of a nice lawn chair set.  Other than that, I have always been pretty perplexed about what is an appropriate gift.  I mean…he already has a lot of flashlights and socket wrenches…
It was only recently that I realized just how much my own father would love Harpole's Heartland Lodge.  Geography has made it difficult to bring him there, but I very much hope to in the future.  After all, what dad wouldn't love a delicious home cooked meal, a bonfire with s'mores, Mississippi River Fishing, relaxing on the deck watching birds, or playing some pool?  The lodge also offers its guests the opportunity to ride horses,  shoot sporting clays, or go for an ATV ride or rent one of Heartland's UTV's! This sounds like the perfect combination of relaxation and adventure to keep any father smiling. You can always book a hunting package for this fall or purchase an online Father's Day Gift Card Here >>
I was recently at the lodge and noticed a father and his two young songs returning from a mushroom hunt.  The two boys were smiling ear to ear, holding several bags of delicious morel mushrooms. 
They had seen several critters on their hunt and were covered in mud.  I couldn't help but think about similar memories I have with my father – adventures, explorations, opportunities to enjoy the great outdoors in good company.  As the boys raced to show their mother their treasure trove, I noticed a quiet smile form on dad's face.  We don't always know which experiences will turn out to be cherished life-long memories.  Sometimes our most beloved memories come from experiences that, in the moment, seem quite routine.  That is not the case at Harpole's Heartland Lodge.  At Harpole's, you will know immediately that the experiences you are sharing with your family will live on in your heart for years to come.
-Nicole Palmisano
Last Updated: June 14th, 2023