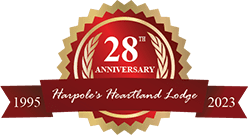 A Hunting Honeymoon = The Perfect Honeymoon
In just a few days, some friends of ours will celebrate their 11th wedding anniversary and of course, seeing their anniversary on the calendar reminded me of their wedding several years ago. The groom is an avid hunter…and the bride was (and still is) his perfect match! Subtle hints throughout the ceremony and reception truly indicated the love for hunting and the outdoors that this couple shared. The groom and groomsmen even wore camouflage vests and ties! None of this was surprising…until the morning after the reception…when the groom headed off after breakfast to go hunting on the final day of deer season! His bride did not seem at all surprised…and I'm sure they had discussed his commitment to hunting long before he left…but what a way to spend your honeymoon! Keep reading…and I'll explain how you can avoid this same scenario the morning after your wedding!
Destination Wedding for Hunters/ Couples Hunting Packages!
So, it seems that the time around Christmas, New Year's and Valentine's Day is a popular time when many couples become engaged. Are you the lucky girl who accepted a marriage proposal over the holidays? Or are you the nervous gentleman waiting to still get down on one knee? Either way, once the engagement ring is on her finger, it's time to start planning the big day…AND the honeymoon!
As many of you know, Harpole's Heartland Lodge is the perfect spot for a destination wedding or couples hunting package! And of course, a great place to spend your honeymoon. But many guests choose to do BOTH at Heartland by holding their wedding at the lodge AND spending their honeymoon there as well. Check out all of their luxury lodges with romantic suites or private luxury cabins for the perfect honeymoon!
But what happens now that you've gotten engaged and are trying to plan both a wedding AND a honeymoon with an avid hunter (like our friends)? Do you schedule your wedding around hunting season? There are certainly people who would respond with a resounding "YES" but truthfully, something as important as a wedding ceremony should not be scheduled around hunting season…especially if you hunt multiple seasons! I grew up with hunters, but can you tell my husband is not a hunter? What if I could tell you that there IS a solution to your dilemma and that there actually is a way to have your wedding AND your honeymoon during hunting season!
The Perfect Destination Honeymoon for Hunters!
So, girls…if your future husband loves to hunt but you have your heart set on a wedding date that just happens to fall during hunting season, don't worry. Let him know that you understand that hunting season is very important to him…but that your chosen date is important as well…and then offer to go on a "Hunting Honeymoon!" A "Hunting Honeymoon" at Heartland Lodge would be even better…YOU get your luxurious suite (including a Whirlpool tub and fireplace) in one of their three lodges, home-cooked made-from-scratch brunch and dinner, and the comforts of their triple-sheeted, ultra-comfy beds and HE gets to go hunting in some of the Midwest's prime hunting ground.
And guys, if your wife-to-be is going to be the hunter in the family, you would certainly be getting your marriage off on the right foot if you offered her a "Hunting Honeymoon"…and there is nothing wrong with that! YOU can enjoy all the natural beauty that the lodge has to offer, maybe practice up on your pool or shuffleboard skills, or just kick back and enjoy that book you've been wanting to read while SHE is enjoying the thrill of the hunt!
What makes this idea even better is if BOTH of you like to hunt!  Can you imagine any better way to begin your marriage except by sharing your love of the outdoors and your love of hunting? Once the "I Do's" have been said, and you've declared your love for one another in front of family and friends, take the time to enjoy each other while doing something you both enjoy and are passionate about!
Now comes the loaded question…what kind of hunting do you enjoy? Your "Hunting Honeymoon" will obviously depend on your actual wedding date but maybe you'll set your wedding date according to hunting season. Heartland offers several different types of hunting…and I'm sure that there is at least one season (if not more), that will be perfect for the two of you.
Of course, the most obvious hunting season in Illinois and more specifically, Pike County, Illinois, is for Whitetail Deer. With Whitetail Deer, you have the option of hunting either during bow season or gun season…or both! And I didn't know it until today but there is even a season for Whitetail Deer Shed Antler Hunting! I'm not a hunter but this may be something even I can do!
And even though I'm not a hunter, I did have the opportunity to experience Upland Bird Hunting and Waterfowl Hunting at the lodge back in December of 2013 while shooting photographs for a magazine article. From my experience, and the testimonials that I've read and heard, both of these hunting experiences are rated very highly by hunters from all over the country! From the guides to the dogs to the duck calling, everything is top-notch!
I certainly don't want to forget about Turkey Hunting! Take advantage of the spring season and have a spring wedding followed by your "hunting honeymoon." Unfortunately, I am not that familiar with the turkey hunting at the lodge but again, from everything I've read, it's a great experience. And no matter what season you choose to get married and hunt in, you'll want to check out the Sporting Clays course available at the lodge. Fifteen stations located on 25 acres will give you a chance to practice your shooting skills…and encourage a little competitiveness between you and your new spouse!
The testimonials from the many hunters who experienced the hunting side of the lodge…should only inspire you to give a "Hunting Honeymoon" a try! What do you have to lose? Sharing your passion with your new spouse will be a great way to bond…and begin a tradition that will last a lifetime!
Lori Biehl
(Twenty + )-Year-In-a-Row Guest
Last Updated: December 20th, 2022