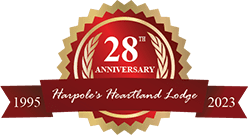 Get Ready For Pheasant & Quail Hunting Season!
The 2023 upland season is just around the corner! Whether you enjoy Upland Bird Hunting, Waterfowl Hunting or Deer Hunting our lodge offers just about the best that you will find. Four beautiful lodges, four luxury cabins, great food and accommodations, along with the opportunity to meet other hunters that share common interests makes for an enjoyable stay with us. Our entire staff is here to take care of your every need, and you will find them to be most hospitable and they will do their utmost to make your stay both enjoyable and memorable.
If you would like to hunt upland birds, now is the time to start to make arrangements to do so.  We can accommodate a single hunter or large groups. The key is to contact us as soon as you have some dates in mind that you would like to come and hunt our bird fields. We have great cover; easy walking and we can tailor your hunt to suite the pace that you enjoy. Personally, I believe that this is going to be a very good year for hunting birds. I have seen more baby ducks, geese and turkeys then I have seen in a number of years. Having said that, this can mean that it was a very good spring for hatching birds. I believe this will translate to there being an abundance of pheasants and quail ready to be hunted as we move into fall.
Early in the season (September) it can be on the warm side so if you come during this time frame bring lighter clothing to avoid getting overly warm. We typically will get to the fields around 9:00 A.M. and begin our hunt very soon thereafter. Typically, we will go out and make about a 45-minute round and then come back to the trucks to unload birds and refresh ourselves with water or a sport drink. This also allows us to change out dogs and then head back out to the field for another hour or so. Then we will do lunch and return to the field at about 2:00 P.M. for the afternoon hunt.
October- We may see some frost by the mid part of this month and the weather will be cooling down, but it can still be warm, so again bring lighter clothing to allow you to be comfortable all day. Typically, it will be cool in the mornings and warm up during the midday.
November will be cooler yet and we may even have some snow by the end of the month, bring warmer gear for this time and use the layered approach as you can always remove a layer or two if we have a warm spell.
December, January and February will be the coldest part of the year and again remember to bring heavier clothing and more of it.
We look forward to your visit with us and we always enjoy helping you to have a very memorable and safe hunt at Heartland Lodge. If we can answer any questions or give you any additional information or assistance as you plan your visit, please call me or contact me via email, we are here to make your stay with us the best it can be. On another note, bring your spouse or significant other, they will enjoy seeing you hunt and being with you as you both enjoy a great time together outdoors.
Best regards and we hope to see you this season!
More information on our Guided Pheasant Hunts
More information on our Wild Quail Hunting Packages
Last Updated: August 4th, 2023