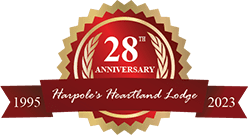 January Girl's Upland Hunting Weekend!

January 2024 Girl's Upland Hunting Weekend!
January 26th-28th, 2024
* There will be a limited number of spots available, we expect this to sell out quickly! Call today to reserve your spots! 217-734-2526 *
During our girl's upland hunting weekend, you and your friends will enjoy gourmet meals, first-class accommodations, phenomenal wingshooting, and professional guides! After a long week of staff meetings, laundry, ringing phones, and e-mail updates, don't you think you deserve a vacation that's something you truly enjoy, like upland hunting!? Imagine it – no cooking, no cleaning, and no worries. Just good friends and fellow hunters relaxing and enjoying each other's company at our dual endorsed wingshooting lodge.
---
Girl's Upland Hunt Getaway Lodging Options
Accommodations include several room options for you to choose from – anything from a regular room with two extra-long twin beds (included in the hunt package, booked double occupancy. Private rooms or suite upgrades can be reserved for an additional nightly fee.) to the Whitetail Suite in the Original Lodge (sleeps 2) to a Luxury Suite with a king-size canopy bed and daybed in the Prairie Ridge Lodge (sleeps 2-4) No matter which room you select, all of our beds are triple-sheeted with the highest quality linens to make you feel like a queen. Each room also includes a private bath, and if you choose to stay in one of our luxury suites, your room will feature a two-person Whirlpool tub! These suites also have fireplaces inside the room!
---
Your Upland Hunt Experience
When you stay at Heartland Lodge, we want your experience to be the best that it can be. Our goal is to provide you, the upland bird hunter, with an outstanding experience not only in the field but throughout your stay with us- from meals, lodging, guiding, etc. We pride ourselves in giving you our utmost attention and making certain that you will have a great experience while you are with us at Heartland Lodge. In addition, if you would like to bring your spouse along on a hunt as a walk along, photographer or just to share the hunt with you we are happy to have them along. We offer a wide-variety of luxury lodging that are perfect for those looking to get-away from it all while you're out in the fields!
---

Rates/ Packages
3 Night, 2 Day Hunt – Arrive Friday 3 PM – 4 PM, hunt Saturday/ Sunday and depart Monday by 11 AM. (You are more than welcome to extend hunt days before or after this weekend!)
Your hunt package will include a half round of sporting clays with a shooting instructor on arrival day. (shells not included)
Prices below include guides, dogs, meals, game cleaning and processing and lodging (booked double occupancy in the Original Lodge, contact us for pricing details on luxury suites/ cabins).
January Girl's Upland Hunting Weekend Package (3 night, 2 day hunt)  Special Price- $1,999 per hunter
---
Upland Hunting Miscellaneous Info. –
Gun Rentals Available – We have shotguns available to rent for $85 per day. Please call-in advance if you would like to rent a gun (217-734-2526). Renting one of our shotguns is much easier than taking one through an airline!
Shells – We have shells available for sale at the lodge for 28, 20 and 12 gauges.
Transportation – Lambert St. Louis International Airport is the closest major airport. For private planes, Quincy, Jacksonville, and Pittsfield airports are the closest. Visit our directions page for directions for driving to the lodge.
Open All Year – Come to Heartland for a get-away. This will give you the opportunity to check out the Lodge prior to booking a hunting trip. We are open all year. Being open all year allows us to employ full time staff year-round.
*This weekend event will not be an all-inclusive women's getaway at the lodge. We may potentially have other guests waterfowl hunting, upland hunting, or vacationing during this weekend hunt. Guests are encouraged to bring non-hunters or significant others. Meals/ additionally lodging options are available for non-hunting guests. For more details, please give us a call at 217-734-2526.
*Due to limited availability, there is no refund if you were to cancel this hunt. In the confirmation E-Mail, we provide a third-party trip insurance link that we recommend.
Last Updated: November 28th, 2023