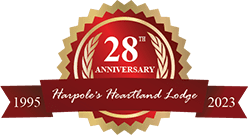 Terry's "Pick" Pheasant and Quail Hunting Dates
The winter and spring calendar is starting to fill in nicely. The weather has been perfect for pheasant and quail hunting and our fields are looking great! Our Milo food plots still have nice heads on them, providing a great food source for all wildlife along with extra winter cover for pheasants and quail.
I normally don't do this but when I was looking over my hunt calendar I noticed a couple dates that if I was coming on a hunt to Heartland Lodge, these would be the dates I would pick. Why, you may ask?  There are several large groups hunting this winter and spring and the days following their upland hunt, the fields are going to be full of birds! They are liberating extra birds for their hunts.
1)     February 6th-12th– The weather is forcasted to be nice! I also have a busy schedule of hunts this weekend (Jan 27th – Jan 29th) and the first couple days of the week. So all of next week should be perfect for pheasant and quail hunting.
2)      February 20th-24th – We have a large corporate pheasant and quail shoot from Feb 17th-19th. The fields are going to be loaded with birds the week after!
3)      February 25th (afternoon)-28th – We have a large fundraiser hunt for a nonprofit group on the morning of February 25th. The afternoon and the days following should be great!
4)      April 8th-12th-We have a large European Driven Pheasant Shoot on the April 7th. The upland fields will be full of pheasants for a week!
5)      April 15th-This is the last day of our season and we have a large group hunting on April 14th. The fields will be full of birds on the 15th. If they are not hunted then, they will be breeding stock for next year's crop!
I didn't list any dates in March as it is always busy with upland hunters and the fields are always full of birds. But I still have plenty of openings in March. Of course anytime you hunt with us you will have a great experience. But if I was looking to book a hunt here and my schedule allowed, I would follow one of the large hunts I listed. I am excited just to guide those days!
Make sure you check out our Winter and Spring Hunting Special>>
I look forward to seeing you in the upland fields!
Terry Abney
Last Updated: January 24th, 2012