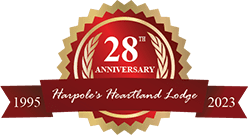 Upland Hunt Giveaway 2024!
Win a 3-night, 2-day Upland Hunt for two hunters! A $4,000 value! To register, all you have to do is enter your name and e-mail on the Upland Hunt Giveaway Link option (Click the link to enter your name & email the Giveaway), and that's it!!!
We give away a free Upland Hunt every year! The winner will be drawn on August 31st, 2024 and will be chosen from only the names that are entered within the last year.
Click the "WIN A FREE HUNT" button below to enter! You will receive an email immediately after signing up. Please make sure it goes to your inbox. Winner is announced by email.
Your Upland Hunting Headquarters
Heartland Lodge has everything you need when it comes to wing-shooting. From the novice hunter to the most experienced wing-shooter, Heartland Lodge offers something for everyone.
Orvis Quality Fully Guided Pheasant & Quail Hunts
Self-Guided Upland Hunts & Dog Training Areas
Snow Goose Hunts
Waterfowl Hunts
Corporate Hunting Packages
---
Our guided pheasant hunts are the best you will find. Even though all of our properties have both pheasants and quail, some hold mostly pheasants. Hunting pheasants behind our pointing dogs can be an exciting experience!  We hunt along fence rows, food plots, and native prairie grasses. We manage our pheasant hunting properties to create a one-of-a-kind pheasant hunting experience!
---
Hunting wild quail in Illinois, especially in Pike County, has been a tradition that goes back for generations. The native prairie grasses of Illinois are ideal habitat for coveys of quail.
These same traditions continue on at Heartland Lodge. Many of the farms we quail hunt are just like "Uncle Lyle's farm." The farms still have the old fence rows, native grasses, and a mixture of food plots and grain fields. This prime habitat ensures that coveys of wild quail are scattered across all of our properties.
---
Snow goose hunting along the Mississippi and Illinois river flyways can be some of the most exciting and action-packed snow goose hunts available!  There are no limits and no plugs! On our best day we harvested 250 snow geese!
You will hunt out of very comfortable heated, pit blinds. Our spread consists of several thousand decoys along with several electronic callers to bring in the snow geese. A hot breakfast will be served in the morning inside our blind. The professional guides, dogs, gourmet homecooked meals, and accommodations are all included in the price of our snow goose hunts!
Click the "Giveaway Signup" button below to enter!
(Winner must have entered their email on the Upland Hunt Giveaway. Click the link to enter email & Giveaway option.)
Be Sure To Sign Up For Our Newsletters To Receive Our Latest Upland/Waterfowl/Whitetail & Turkey News & PROMOTIONS!
Everyone who signs up for one of our newsletters also receives a free e-mail series (one e-mail a week for a month) that contains the following information that is only available to those who sign up for our newsletters:
Upland – "The Ten Secrets to Establishing a Native Bird Population", "The Ten Most Important Dog Training Steps", "Ten Myths about Birds" & "Choosing the Right Wing-Shooting Lodge."
Whitetail – "Ten Secrets to Killing a Boone & Crockett Whitetail", "What it Takes To Hunt Trophy Whitetails" & "Choosing a Deer Outfitter."
Resort – "Secret Recipe for Our Famous Apple Pie", "Choosing the Right Resort/B&B" & "How to Make an Ultra Comfy Bed."
Be sure to Like or Follow us on our Heartland Lodge Hunting Facebook Page. 
*Tags, licensing, transportation and gratuity is not included.
*Package includes 3-nights lodging, 2-days of hunting, meals, guides, dogs, game cleaning & packaging. Must be used Sunday through Thursday nights and not before a holiday. Expires March 1st, 2025. Cannot be used October 20th – December 15th, 2023.
*This promotion is in no way sponsored, endorsed, administered or associated with Google or Facebook.*
Last Updated: November 28th, 2023