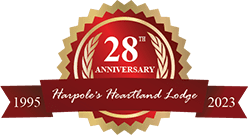 Waterfowl Hunting on the River & New Duck Pits!
There's something magical about the ending of summer and beginning of fall. A feeling o
f cooler temps, a smell in the air and the showing of autumn color in the trees all puts our mind to different activities. Long forgotten are the beaches and pool side activities when the leaves begin to fall. Our mind goes to the outdoors and hunting trips we planned earlier in the year. The promise of fun in the field and the realization of its near arrival puts everyone in a festive mood.
Here at Heartland Lodge we are all busy preparing for those adventures many people are about to take. It's a full time job making memories unforgettable for our clients and it's without a doubt, a labor of love. Currently our waterfowl hunts are expanding to new and exciting opportunities for our hunters. Due to popular demand we have expanded our hunting area and are in the process of building larger more comfortable pits for our bigger groups. These pits are not only heated but come with a stove for in the field meals. A perfect set up for corporate and family hunting groups. These pits are also designed for quick and easy transportation from the parking area to the pit. Handicap access options are also available. In addition to the 300 acres of flooded corn, we also are developing new private ground on the Mississippi river to offer great late season duck and goose hunting. From the island hunters will be able to witness many nesting bald eagles, passing barges and other Mississippi river traffic all from the comfort of a heated blind and over a warm breakfast.
Alot of work has gone into these new and exciting improvements. We hope you'll be able to experience them for yourself in what we think is some of the best duck hunting around!
Waterfowl Manager
Tim Fanning
Last Updated: October 12th, 2017