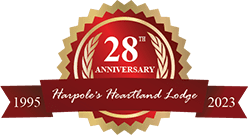 Floyd Simone Takes this 153″ 11pt During IL's Second Gun Season!
Our old and good friend Floyd Simone took this mature whitetail on the opening day of Illinois second gun season. Floyd had an incredible deer hunt, seeing 4 shooters! This buck is at least 7 years old and was in a brutal fight with another buck sometime this season. You can't tell by the photos but right behind his skull he as several deep puncture wounds from fighting. Even though he was in good health when Floyd shot him, he probably wouldn't have made it through the winter. A perfect mature buck to harvest! Congratulations Floyd!!
Floyd hunted with us during our first 4-5 years we were open. Now ten years later, he wanted to entertain some key customers, so he brought them to Heartland on a whitetail hunt! Thank you Floyd we appreciate it. It was great to have you back at the lodge!
Floyd with guide Matt "Yankee" Brunet
Illinois Archery Hunts
Whitetail Deer Hunting Main Page
Early Season Whitetail Hunting
Hunting the Illinois Rut
Late Season Whitetail Hunting
Last Updated: December 2nd, 2011