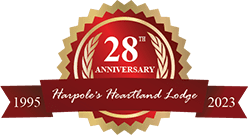 John Brewer's 173″ Monster Whitetail!
Our friend John Brewer from Florida took this incredible whitetail at 5:00pm on the last day of his archery deer hunt in Pike County, Illinois.  John stayed optimistic throughout his entire hunt.  He would always have a smile on his face and say "It was a great day to be in the woods."  It's funny how it works out; those who keep a positive attitude and don't put any pressure on themselves end up killing the big whitetails.
This massive main frame ten pointer weighed in at 280lbs!  Heartland's guide Allen Ballinger worked hard to put John on this impressive whitetail. Congratulations John and Allen on a job well done!  Please congratulate John by clicking on "Like" below. Enjoy hearing in John's own words his experience of a lifetime, by watching his video.
John with guide Allen Ballinger
Last Updated: November 4th, 2012