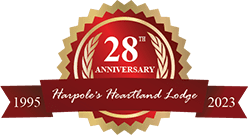 Rick Stavola's Mature 150″ 8 pt!
"A whitetail hunt from the archive's…"
Our longtime friend Rick Stavola took this mature main frame 8 pointer.  Notice the unusual 5″ drop tine in front of his right eye! This deer scored 150" and was a great deer to harvest as he was an older buck.  Rick is a perfect example of what persistence and patience will provide if you hunt with us long enough.  Rick has hunted here for many years and has harvested several nice bucks.  Some years he was not successful but that did not discourage him.  Rick also maximizes his opportunities by being successful whenever he draws back his bow.  Rick has also passed up many bucks over the years that would be considered shooters. Pictured below is Rick's deer from this year with a trail cam photo taken a couple days before he killed him. Further down are some of Rick's other bucks he took while hunting with us. Great Job Rick!!
Trail Cam Photo of Rick's buck a couple days before he took him.
From Previous Years:
Rick took this impressive buck with a drop time on October 2nd
Rick had a great week. Took one with a bow and one with a gun!
Another Nice Archery Buck
Last Updated: September 12th, 2022