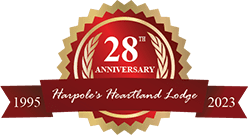 What a Mild Winter Means for Shed Hunters
Numerous factors lead to when a buck sheds its antlers. Stress related to weather is one of them. This year, here in West-Central Illinois, we've hardly had any snow, and other than a few short days of extreme cold, this winter has been mild (so far). We had an extreme cold snap around Christmas, but average or above average temperatures from there on out. The extended forecast looks to bring more mild conditions across Illinois. Over the last week, I've check numerous cameras and glassed several deer. Last night I glassed a group of 5 bucks that I've watched throughout the last few months. Only 1 had shed both sides and 2 other 1 ½ year old bucks had dropped just 1 side.
So, what does a mild winter mean for shed hunters? Sheds will probably be further apart from each other and more in timbered areas; here's why.
Shed Hunting Hot Spots During a Mild Winter
Without extreme cold or snow on the ground, deer are more likely to find more food sources in the timber. Grasses, woody growth, and acorns are still available for whitetails to forage on. It's generally harder to find sheds in the big timber just because there's more search area with more objects for your eyes to depict. Focus on southern facing hillsides, ditch crossings, log jams, small clearings, and cedar thickets that have a high density of woody browse. Even with a mild winter, deer will still bed on southern facing hillsides soaking up the sun's rays.
Without any snow accumulation, deer will be able to travel further distances without expending as much energy they would if there was 10 inches of snow on the ground. This can be a good or bad thing depending on your property. If your farm has the preferred late season food source the deer are after, you might find sheds off of bucks you've never seen before. Clover and brassica food plots with ample tonnage are still getting hit hard by the deer on our properties in West-Central Illinois.
All in all, a mild winter means that deer will usually hold their antlers longer. A prime example of such a buck my brothers and I have watched for the last 3 years. We have found an antler or both antlers off of him for the last 3 years. The last two years he has dropped his antlers around the middle of January. This past year, it was at the very end of January. So, don't get disheartened if you go out this weekend and don't find as many as you usually do. It is just the beginning!
Zach Jumps
Zach@HeartlandLodge.com
Last Updated: February 3rd, 2023