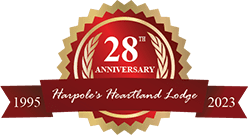 Youth Turkey Hunts for Spring Gobblers
Two brothers harvest their first turkey on their youth turkey hunt at Heartland Lodge. Charlie (Age 13) and Tommy (Age 11) Filip both harvested their first turkeys on the same day! Illinois has a youth turkey season before the regular season starts, but these birds were harvested during Illinois regular second turkey season.  Spring turkey hunts are exciting for both adults and youth hunters. Charlie and Tommy are no exception; both boys were so excited they were shaking!  
Tommy shot his first turkey at 10 yards! This gobbler weighed in at 21lbs, had a 9.5" beard and 1 ½" spurs! Tommy plans to do a full body mount with this beautiful Eastern turkey.
Charlie made a great shot on his turkey at 40 yards! This gobbler weighed in at 23lbs, had a 10" beard and 1 1/8" spurs! To leave some room in the house for his dad and other brother Matt, Charlie decided to get a fan mount of his bird.
The most important part of the hunt is the memories that were created for the Filip family during their family turkey hunt. There is no better way for a father and his three sons to spend time together than in turkey camp. We are glad that we could be a small part of it and that the Filips have made spring turkey hunting at Heartland Lodge a new tradition for their family. To see more pictures of Charlie and Tommy go to turkey photos.
Go to our Turkey hunting page for information on our Turkey hunts.
Last Updated: April 26th, 2012