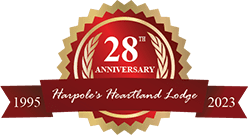 Super Bowl Weekend OHV Riding Event
Enjoy a fun-filled Super Bowl Weekend at Heartland Lodge! Enjoy ATV Riding, Polaris UTV Rentals, Shed Hunting, 15-Station Sporting Clays Course, Hiking, Bonfires, Fishing and much more on Saturday and Sunday before the big game begins! All of the lodges will have the game on our large, flat screen TV's in the common areas that also have pool and card tables. We have lodges available for large group buyouts or you can rent out one of our luxury cabins or suites for a more private experience.
On Saturday and Sunday (Feb. 11th & 12th) we will be celebrating Super Bowl Weekend at the lodge with the following promotions:
Receive $10 off your ATV/UTV day pass if you wear your favorite football jersey to check-in!
Special Deals Available in the Pro Shop- Sat. & Sun.
$$$ OFF LODGING!! (Click here for February Promotions >>)
Important Information
*To save time at check-in, fill out the ATV/ UTV Riding Waiver Here >> *
*OHV Park open 9 A.M. – 5 P.M. daily*
For more information on lodging options, Click Here >>
For more information on our ATV/ UTV Park, Click Here >>
Please give us a call at 217-734-2526 to reserve a room or if you have any questions!
*$10 off ATV/ UTV Park Day pass for day riders not lodging with us.
Last Updated: January 10th, 2023