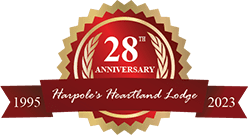 Family Hunting Vacation Trips

Are you looking for a family friendly hunting trip for your next family vacation? Harpole's Heartland Lodge specializes in creating family-friendly hunting memories that you and the rest of your family will cherish for seasons to come!
For nearly three decades, Heartland Lodge has offered family hunting vacations including deer, upland, waterfowl and turkey hunting vacation packages. Your all-inclusive family hunt package includes all the meals, lodging, game cleaning and guiding. With a variety of on-site activities and short-day trips for non-hunters as well! Our hunting heritage at the lodge goes back for generations, we extend our invitation to you and your family to create new legacy memories and hunting traditions that will be cherished and retold for many years to come.
Family Deer Hunting Vacation Trip Package
If you are a serious whitetail hunter, having a family deer hunting vacation in the legendary Pike County, Illinois might just be the epitome of whitetail trips for your friends and family group. At Heartland Lodge, we manage 5,000 acres of prime whitetail hunting habitat that has all the ingredients for producing world-class, free-range whitetail hunting:
genetics
age class management
productive soils (antler development)
high quality cover and food sources.
We offer both archery and firearm whitetail hunting packages. To view our available rates/ dates for this season, Click Here >>
FOR MORE DETAILS ON OUR WHITEAIL HUNT PACKAGES, CLICK HERE >>
While the hunters in your family are out in the field, the non-hunters can enjoy a variety of activities such as horseback riding, ATV riding, hiking, fishing, and more. (check out our full list of family friendly activities here) After the hunt, enjoy our rustic lodges and tell your day's adventures over the bonfire or cozy fireplace.
Family Upland Hunting Trip
We host several family groups each year that have made coming to the lodge for a hunting trip an annual tradition. We are the only Orvis and Shooting Sportsman endorsed lodge in Illinois. We offer fully-guided upland hunts on thousands of acres of native habitat that pheasants and quail thrive in. Our upland hunts are all-inclusive hunting package that includes professional guides and their dogs (some of the finest in the country!), gourmet meals, lodging and game cleaning. For more details on our upland hunting packages, Click Here >>.
Check out our Family Holiday Hunting Package Here >>
All-Inclusive Hunt Vacation Package
When you book a family hunting trip at our lodge, you won't have to worry about making the meals or doing the dishes! Relax and unwind with your family and friends over the fireplace with your favorite beverage, shoot a round of pool or take in the beautiful views around the lodges in our comfortable outdoor furniture with covered porches. The meals at the lodge are an attraction in themselves. Enjoy hearty, gourmet style cooking passed down from generations ago from the Harpole Family. The hunt package includes an Original Lodge room with either two twin beds or bunk beds, booked double occupancy. Private rooms/lodges can be reserved based on availability. We offer several lodging options for your hunt group to choose from including private luxury cabins and suites.
To view our different lodging options, Click Here >>
---
Family Hunt Vacation Lodging Options
We have a lodge or cabin for all family hunt sizes from 2 to 30! When you book a hunt at the lodge, a regular room in the Original Lodge is included in your hunt package, booked double occupancy. Upgrades/ private rooms are available for an additional nightly fee.
The Original Lodge
The Original Lodge is full of tradition and memories! This cozy lodge was the first lodge built at Heartland Lodge and has become one of the favorites among our family hunting groups. At 9,500 square feet, it features eleven regular rooms, the Angler Room and the Whitetail Suite for thirteen total rooms. An incredible Great Room (where many of our spectacular photos are taken), Recreation Room, and front and back decks provide the perfect family retreat.
More information on The Original Lodge
Prairie Ridge Lodge – Luxury Suites with Hot Tubs and Fireplaces
Prairie Ridge Lodge, named after the prairie grasses, that surround the resort is also known as our luxury hunting lodge. This lodge has over 10,000 square feet and features seven luxury suites, making it one of the nicest hunting lodges in Illinois. All luxury suites, each decorated to its own theme, feature an ultra-comfy, king-size, triple-sheeted canopy bed, private bath with Whirlpool, fireplace, daybed, comfy sitting area, mini-refrigerator and direct access to the expansive wrap-around decks. A Recreation Room, Banquet Hall/Conference Room and a Dining Hall make this luxury lodge perfect for your next hunting retreat.
Quail Ridge Cabin (Perfect for a Private Family Hunting Retreat for up to 8 Guests)
The Quail Ridge Cabin sits atop a beautiful knob overlooking gently rolling meadows, agriculture fields and forest. Just a couple miles from the main resort off a dead-end road, Quail Ridge, is a completely secluded getaway for those looking for the perfect, all-inclusive hunting vacation. Whether you are staying at the lodge for a vacation or hunting trip, you will be sure to enjoy this cabin. It is the perfect private cabin getaway that offers complete seclusion and privacy!
Private Luxury Cabins -with Fireplace and Hot Tub! (Hunting Honeymooners Favorite Option)
Private Luxury Cabins Enjoy a private luxury cabin that was built with hunting couples and honeymooners in mind. Each romantic cabin is decorated with its own unique theme. All cabins are carefully crafted with knotty pine and cedar walls, fifteen-foot vaulted ceilings, hand-carved Old Hickory furniture, fixtures and appliances. Each cabin with hot tub and fireplace also features an ultra-comfy, king-size bed, large 4K HD television with 4K Blu-ray player, relaxing private deck with barbeque grill, kitchen, and private fire pit to roast marshmallows or to make your own s'mores.
Heavenly View Cabin (Perfect for a Family Two – Ten People)
Heavenly View is a luxury cabin with views that will take your breath away! Nestled near the top of the Mississippi River bluff, this cabin provides amazing views of the Mississippi River valley and the surrounding property. The cabin sits on 50 private acres which you can enjoy from the covered patios and screened-in porch that adjoin three sides of the cabin. Wake up in the morning with a cup of coffee and step outside to listen to the wild turkeys gobble around you or watch the whitetail deer feed in the meadow at the bottom of the valley. Savor the sunset and its beautiful colors across the Missouri hills.
Sunset Valley Lodge
Sunset Valley. The name of this lodge says it all. The view from the expansive rear deck as the sun sets over the horizon of the Mississippi River bluffs will take your breath away. This 10,180 square foot luxury lodge features seven suites and rooms. Located less than one mile from our other two lodges, Sunset Valley sits on its own 52 private acres and provides an outdoor entertaining environment you would expect with a lodge rental.
Family Hunt Reviews
"Very family oriented place to gather for meals & hunting on some beautiful property. Our guide Ben, did awesome job showing me how to hunt for pheasant. His dogs were definitely a great team out there in the fields. Thank you for an Amazing time!" 

-Ruby Turpin
"Heartland Lodge exceeded all of my expectations. Lodge accommodations were great. Staff was very welcoming and helpful. Food was excellent, especially the pecan pie. Chris the upland bird guide and his dogs made the hunting experience very enjoyable. Everyone in our group had a great time and can't stop talking about the great memories we made on our short trip."   

-Kyle Hunter
"Accommodations were excellent! The food, service and staff, hunting, everything was top notch. One of the best lodges and hunts I've ever been to. Ben was an excellent guide – very knowledgeable and went the extra mile to make sure we had a great hunt. His dogs were two of the best I've seen. Thank you!!"   

-Greg Clifton
"2022 was my 5th year archery whitetail hunting with Heartland and as previous years was an awesome experience. The accommodations, food and staff were excellent. Heartland has tremendous properties in Pike and Calhoun countries, most impressive. I had a couple encounters with shooter bucks, needed a couple more minutes of daylight each time, even though the weather was really warm. My son accompanied me on the hunt and took a heavy horned 140 inch 10 point. Have already booked for 2023 hunt and looking forward to another awesome trip."   

-John Burdette
---
For more details on booking a family vacation getaway, give us a call at
217-734-2526
or
E-Mail
us today!
Quick Links
Last Updated: November 29th, 2023