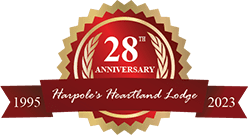 Going Out with a Bang: Late Season Doe Hunting
The 2011-2012 season is in the books.  We had a great season here at Heartland Lodge, filled with memories that will last a lifetime.  Late season doe reduction is always the final leg of our deer season.  It's a great time to enjoy the hunt without all the pressure of hunting trophy bucks.  Every year guys come out to help us manage our deer herd so that we may continue to off the best in trophy whitetail hunting.  This year we had the pleasure of hunting with an awesome group of men.  We were joined by some old friends, and a few new ones. 
Brian and Ethan Aubuchon, a father son team, came to Heartland for the third time this season.  Ethan, a 13 year old with a new passion for deer hunting, harvested his first deer with us last year during youth season.  Ethan's desire to learn to deer hunt sparked his father's interest in the sport.  It has become an annual tradition for them to visit Heartland during the winter antlerless season.  Though Ethan was successful in harvesting his first deer early on, Brian had not had the opportunity to put his tag on anything yet.  That all changed this season.  On the first evening of their hunt, Brian took a nice, mature doe.  This was just his icebreaker though. On the last morning, Brian and Ethan were hunting together out of a tower blind when, as usual with whitetail, deer popped up out of nowhere.  The two men picked out the mature doe in the group, and it was Ethan's turn to go to work.  However, the deer was slightly out of range for Ethan to be comfortable with the shot.  Not wanting to miss an opportunity on the doe, he passed her on to his dad.  Brian took his second deer of the trip and another memory was made.  Not only did Brian get his first two deer on this trip, but his son, Ethan, proved that he is a true hunter with a sense of ethics developed far beyond his year.  Despite not having another opportunity to shoot a deer himself, Ethan enjoyed the hunt with his dad.  These experiences are what hunting is all about, and we at Heartland were proud to be a part of it.
Geoff and Ryne Duncan are another father and son team that decided to spend the late season at Heartland Lodge.  The Duncans came to Heartland with the goal of taking Ryne's first deer.  Things started off with a bang, literally.  Geoff laid the smack down on a doe on the first morning of their hunt.  Meanwhile, Ryne was seeing deer, but couldn't get things to come together.  That wouldn't be the case for long.  On the third evening of the hunt, Ryne dropped a nice doe with a great shot.  Not only did everyone in the Duncan crew fill a tag, they made memories that will last a lifetime, and started a tradition of coming to Heartland each winter to fill their freezers.
John Pretti, a newcomer to the world of hunting, joined us twice during the late season to hone his skills.  A new Savage 220F proved to be just what he was missing on his first trip.  When he arrived, he and his guides went out to the range, sighted it in for 100 yards, and after a couple boxes of shells were confident that anything within that range would be riding in the back of the truck.  Patience was a hunting virtue that John had to learn in his day and a half hunt, because other than a couple split second encounters the woods had been quiet.  That all changed on the last evening of his hunt.  In last hour of daylight John shot his first doe of the trip, but things were just heating up.  He had another tag and it seemed the floodgates had opened for him.  John took another doe before dark, but the deer activity didn't slow down.  With his two tags filled he was forced to sit and watch the show.
The last evening of the 2011-2012 deer season ended without a gambrel to spare on the meat pole.  It was a fitting end to a fantastic season.  Now that 2011 is in the books, it's time to start getting excited about 2012.  Antler sheds are starting to hit the ground, so we invite you to come out and begin your pursuit of the trophy bucks living on our properties.
Allen Ballinger
More videos & pics of successful hunters             Antler Shed Hunting
Whitetail Deer Hunting Main Page                      Illinois Gun Hunts
Early Season Whitetail Hunting                           Hunting the Illinois Rut
Late Season Whitetail Hunting                            Real Estate
Last Updated: January 26th, 2012