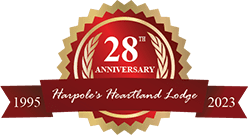 Best Whitetail Hunts and Outfitter
Best Whitetail Outfitters and Hunts
Heartland Lodge Whitetail Outfitters is regarded as one of the best deer hunts available not only in Illinois but throughout the country. What does it take to be ranked among the best whitetail hunting outfitters?
We're located in famed Pike County, Illinois- Historically one of the highest producing counties for trophy whitetails. You cannot harvest a mature buck if they are not there!
Low pressure hunts- We keep our camps small to ensure quality whitetail hunts.
Long-term deer herd management for growing mature whitetails.
Year-round scouting and Trail Camera Monitoring.
Food plot program to ensure our deer are optimized for greatest growing potential and to enhance your hunt.
5-star lodging, meals, and accommodations- Once you get done hunting, enjoy our amazing home-style cooked meals, luxurious lodging and accommodations. All of which is included in your All-Inclusive Whitetail Hunt Package.
Year-round whitetail guides and supporting staff. Most outfitters are only part time operations. At Heartland Lodge, we are a full-time whitetail outfitter that starts preparing for our next hunt the day after deer season ends.
Every deer that is on our website is taken off of our properties. Many outfitters put their family members and friends trying to beef up their Trophy Pictures.
Many outfitters come and go, Heartland Lodge has been a whitetail outfitter for over 25+ years!
All free range, 100 % fair chase hunting
We've been in the whitetail outfitting business for nearly 30 years!
Your whitetail hunt is a large investment, and we want to make sure that when you leave, you feel like we have given you 100%. It's our opinion that taking a large number of hunters is counterproductive to the overall hunting experience. Our small camps help us build a personal connection with each of our hunters and allows the hunters to give us constructive feedback on a day-to-day basis so that we can provide the best whitetail hunting experience possible. This is one of the many reasons why we have several hunters rebook before they leave.
If you're interested in a whitetail hunt for this season, call 217-982-4039 or E-Mail me today for more information at Zach@HeartlandLodge.com. To check out our regular deer hunting rates and dates for this upcoming season click here>>
Zach Jumps
Zach@HeartlandLodge.com
217-982-4039
Rates & Dates>>
Hunting the Illinois Rut>>
Illinois Gun Hunts>>
Archery Hunts>>
Early Season Whitetail Hunting>>
Shed Hunting Tips>>
Last Updated: June 23rd, 2023