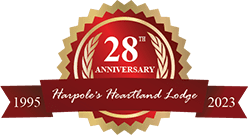 Late September Whitetail Scouting Update
If you're like me and you're not too fond of this end of summer heat… your mind starts to wonder to those frost ridden mornings of October and November of the past. With only a few days to go before the archery season opens, you begin to finalize your October game plan. Maybe you already have a buck from last season that's at the top of your list for this fall or you're still waiting for him to show up. Either way, the days are getting shorter and hunters across the Midwest are chomping at the bit to start off the 2023 whitetail season.
October Forecasted to Start Off Warm & Dry..
Here at Heartland Lodge, we've been busy monitoring trail cameras, mowing our clover food plots, over-seeding a few of our fall plots with oats and rye, and fine tuning our treestand set ups. So far, this September has been hot and dry.  Looking ahead, it looks like a major heat dome will be bringing more summer-like weather conditions for the start of the season with daily temperatures reaching into the upper 80's before starting to cool down towards the end of the first week of the archery season. Although I'm ready for the 80–90-degree temperatures to be over with, our brassica food plots will flourish in this late summer heat!
Moving into Fall Ranges & Changing Food Sources
The bachelor's of summer will be growing tired of each other as the number of daylight hours dwindle and testosterone levels rise. New bucks are starting to show up on trail cameras as the annual fall shift begins. As the soybeans and corn begin to dry up in moisture content, whitetails will begin feeding more on anything with a little more moisture content in them such as alfalfa, broad leaf browse and our food plots of clover, oats, rye, turnips and radishes. Soft mass such as persimmons, apples, etc. and all different varieties of acorns will be at the top of the list. This year, we did have a good acorn crop in West Central Illinois. During the early season, we'll tend to focus on the many white oak groves we have across our farms during both morning and evening hunts as deer transition back and forth into their bedding areas.
October/November Archery Hunts Available!
We have been keeping close tabs on the different phases of the whitetail's world and preferred food sources as we make the final preparations for the 2023 deer season. If you are looking to schedule a last-minute hunt for October, we do have a few hunt spots open, Click Here to View Hunt Dates/ Rates for this Season. 
I'm looking forward to sharing camp with new and return clients/friends this fall. I hope you have a safe and memorable whitetail season with friends and family.
Good luck!
Zach Jumps
217-982-4039
Bowhunting October Trophy Whitetails >>
2023 Whitetail Hunt Packages >>
Last Updated: September 28th, 2023