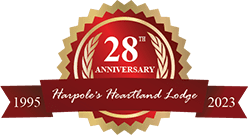 Hunting Preserve in Illinois-Orvis Endorsed
Wingshooting is one of the most time-honored traditions, linking like-minded people from coast to coast together by fine pointing dogs and fine guns. Since the birth of the United States, the chase of upland game was done for necessity, sport, and excitement. Hunting preserves, like the Orvis, endorsed Harpole's Heartland Lodge, seek to keep these wingshooting traditions alive and to enhance the hunting experience for generations to come. With continued loss of public land hunting in Illinois and across the Midwest the benefits of Illinois preserve hunting has become in of necessity.
Illinois Pheasant Hunting Preserve- Guided & Self-Guided
The reality is that pheasant hunting preserves offer opportunities to individuals that might otherwise never have the chance, and high-quality birds can nearly mirror the hard-flying birds found on the wild prairie lands. The entire experience of hunting at a wingshooting lodge is second to none, and the idea that it is more expensive or 'easier' than public land hunting is often overstated. If you haven't yet enjoyed hunting at Harpole's Heartland Lodge, it's time you check it out and see why so many have made it a yearly tradition!
Illinois hunting preserves bring a high level of success to the upland hunter hunt that may otherwise be miss out on. Perhaps you have a busy work schedule, you don't have access to the land you hunted ten years ago, or there just aren't any birds in your area due to the lack of cover.  Couple that with the traditional hunting seasons being confined to a limited set time of the year. Maybe you would like to introduce your wife, child, or friend from work to the thrill of upland hunting in a more controlled environment. An upland hunting lodge in Illinois may just be the answer to help you clear those hurdles.
Benefits of Heartland's Wingshooting Hunting Preserve
Pheasant hunting lodges work well for hunters of all ages, abilities, and challenges. At a wingshooting preserve can you hunt in a group comprised of a first-time youth shooter, a well-experienced sportsman seeking a challenge, and an aged hunter who would prefer to avoid the physical demands of public lands. Disabilities can easily be accommodated in a quality managed setting, and experienced guides are available to assist newcomers to the sport.
Some wingshooters may believe that preserve hunting is not as challenging as chasing birds on public lands or private property. That belief is far from the truth, especially when it comes to the large and challenging lands found at Harpole's Heartland Lodge.  Our upland field has over of 1000 acres of managed ag land, forest, and native prairie. It is possible, without a guide and good dogs, to wander the acres without seeing an upland bird. The challenge is still there, but the chances of harvesting a vest full bag full of quail and pheasants are much higher.
Some find the cost of a luxury lodge hunt to be too expensive; when, an upland hunting trip out to South Dakota could cost considerably more than a hunt at Harpole's Heartland Lodge, especially if you live in the Midwest. You can't simply drive out to South Dakota, show up at some public land, harvest a mixed bag limit, and head home the next day. Training and keeping a team of upland dogs, planning, finding public land and hen finding birds on the land all add up to more time away from work or your family, and more expenses. Travel, lodging, food, licenses, equipment all add up quickly.
Orvis Endorsed Wingshooting Lodge and Preserve
At Orvis endorsed lodges, like Harpole's Heartland Lodge, your guided hunt trip is all-inclusive, including lodging, meals, guides, dogs and cleaning and packaging your birds. You get 'Out West' hunting at a convenient location for an affordable price.   If you are wanting to introduce a new bird dog, or fine tune the skills of your finished dog, an upland hunting preserve is a place to do it, with the assurance of presenting the dog with a good number of quality birds. If you haven't been out upland hunting because you don't have an upland dog doesn't mean you can't enjoy a challenging hunt. Harpole's Heartland Lodge offers the highest level of guides and dogs available in the Midwest to ensure a successful experience!
What is an Orvis Endorsed Wingshooting Lodge?
Luxury Accommodations for Upland Hunters
-Clint LaFary
Last Updated: September 9th, 2022