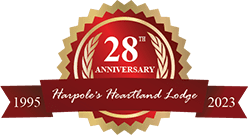 Couple's Hunting Vacation Trips
Couples Hunting Packages
Harpole's Heartland Lodge is the perfect destination to enjoy a couples hunting vacation package! We have a variety lodging and all-inclusive hunting packages for you and your significant other to enjoy. Whether you're enjoying one of our private luxury cabins or a luxury suite in one of our 5-star lodges, you will understand why Heartland Lodge was voted the #1 romantic getaway for couples in Illinois!
Heartland Lodge offers couple's hunting trip packages for the following species:
Couple's All-Inclusive Hunting Packages
A couple's package at Heartland Lodge can include a luxurious suite (including a Whirlpool tub and fireplace) in one of our three lodges, or five luxury cabins, home-cooked made-from-scratch brunch and dinner, and the comforts of triple-sheeted, ultra-comfy beds. Whether you are a non-hunter or will be joining your significant other in a hunt of a lifetime, Heartland Lodge is the perfect destination to enjoy a relaxing couple's hunting vacation trip.
If you are coming as a non-hunter, you will love everything the lodge has to offer on-site and off-site. You can practice up on your pool or shuffleboard skills, go for a relaxing hike, or just kick back and enjoy that book you've been wanting to read while your partner is enjoying the thrill of the hunt! If you are hunting during the resort season (April thru Mid-October), Heartland offers guided Horseback Riding Trails, 15-Station Sporting Clays Course, Polaris UTV Rentals (you can bring your own ATV or UTV and explore 1,200 acres!), Guided Fishing and Mississippi River Cruise Excursions, Pistol Range and much more!
Now comes the loaded question…what kind of hunting do you enjoy? Heartland offers several different types of hunting…and we're sure that there is at least one season (if not more), that will be perfect for the two of you.
---
Hunting Couple's Vacation Lodging Packages
The Original Lodge- Whitetail Suite Room
The Original Lodge is full of tradition and memories! This cozy lodge was the first lodge built at Heartland Lodge and has become one of the favorites among our family hunting groups. An incredible Great Room (where many of our spectacular photos are taken), Recreation Room, and front and back decks provide the perfect family retreat.
The Whitetail Suite is the most romantic room at the Original Lodge, featuring a king-size, triple-sheeted canopy bed, a private two-person hot tub, and fireplace. This suite is decorated in a Whitetail theme after the beautiful whitetail deer that are abundant around the resort. This room also has French doors leading to a walkout porch with a porch glider.
More information on The Original Lodge >>
Prairie Ridge Lodge – Luxury Suites with Hot Tubs and Fireplaces
Prairie Ridge Lodge, named after the prairie grasses, that surround the resort is also known as our luxury hunting lodge for couples. This lodge has over 10,000 square feet and features seven luxury suites, making it one of the nicest hunting lodges in Illinois. All luxury suites, each decorated to its own theme, feature an ultra-comfy, king-size, triple-sheeted canopy bed, private bath with Whirlpool, fireplace, daybed, comfy sitting area, mini-refrigerator and direct access to the expansive wrap-around decks. A Recreation Room, Banquet Hall/Conference Room and a Dining Hall make this luxury lodge perfect for your next hunting retreat.
Private Luxury Cabins -with Fireplace and Hot Tub! (Hunting Honeymooners Favorite Option)
Private Luxury Cabins Enjoy a private luxury cabin that was built with hunting couples and honeymooners in mind. Each romantic cabin is decorated with its own unique theme. All cabins are carefully crafted with knotty pine and cedar walls, fifteen-foot vaulted ceilings, hand-carved Old Hickory furniture, fixtures and appliances. Each cabin with hot tub and fireplace also features an ultra-comfy, king-size bed, large 4K HD television with 4K Blu-ray player, relaxing private deck with barbeque grill, kitchen, and private fire pit to roast marshmallows or to make your own s'mores.
Heavenly View Cabin (Perfect for a Family Two – Ten People)
Heavenly View is a luxury cabin with views that will take your breath away! Nestled near the top of the Mississippi River bluff, this cabin provides amazing views of the Mississippi River valley and the surrounding property. The cabin sits on 50 private acres which you can enjoy from the covered patios and screened-in porch that adjoin three sides of the cabin. Wake up in the morning with a cup of coffee and step outside to listen to the wild turkeys gobble around you or watch the whitetail deer feed in the meadow at the bottom of the valley. Savor the sunset and its beautiful colors across the Missouri hills.
Sunset Valley Lodge
Sunset Valley. The name of this lodge says it all. The view from the expansive rear deck as the sun sets over the horizon of the Mississippi River bluffs will take your breath away. This 10,180 square foot luxury lodge features seven suites and rooms. Located less than one mile from our other two lodges, Sunset Valley sits on its own 52 private acres and provides an outdoor entertaining environment you would expect with a lodge rental.
Couple's Hunting Trip Reviews
First Class "OMG where do I begin! This hidden jewel is something you would find in the mountains & resorts of Colorado, Montana or Idaho. No expense has been spared in the luxury accommodations that make you melt right into the bed, & wrap yourself in the luxurious linens. The canopy bed, private balcony, fireplace, jacuzzi bath, & all the luxuries you could ask for are just a step inside this beautiful lodge or lodges depending on which one you pick… & that's a tough one! Watching the sunset from the Grand Suite in Sunset Valley is heartstopping. Sledding down the hills of Prairie Ridge has been a family favorite. I haven't even RAVED about the gourmet meals that await you for dinner & breakfast. I swear the top chefs in the country have to be in that kitchen. First the food presentation is simply stunning… something I have only seen in the finest restaurants in New York & London! HOMEMADE… YES… HOMEMADE with all you can eat helpings makes this one of the best places we have been to. So many ways to enjoy this fabulous resort… a

couples

getaway, a family weekend, a girls getaway, & hunting trip, a wedding, a reunion… anything… you MUST have it here!"    

-Username LONDON wrote a review on TripAdvisor.com
Eugene Petit wrote a google review:

"I've been having a blast relaxing and hunting with my wife. Great time doing an upland hunt today with R.J. Still have another 4 days of fun planned.
If your into bird hunting this place has been great. Got a half day and almost bagged out for the day with 2 people.
Rooms: We stayed in the luxury rooms and it's been great. You can choice to cook or have the outstanding food the lodge cooks. Peaceful and great country to enjoy the quiet nights.
Walkability: Everything is in a little area for lining up events and walkable. If not the employees will be taking you out."
---
For more details on booking a family vacation getaway, give us a call at
217-734-2526
or
E-Mail
us today!
Quick Links
Last Updated: October 20th, 2023