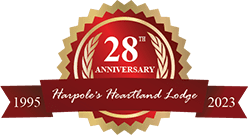 Rich Peace and His Illinois October Whitetail
Whitetail Hunt from the Archives! Rich Peace's October Whitetail Hunt-
"This year my dad and I decided to come to Pike County and try our luck at an Illinois whitetail.  We booked a hunt the last week of October with The Heartland Lodge and we couldn't wait to get here.  As we arrived, so did the unseasonable warm weather.  The first day in Illinois brought highs in the upper 70's and nearly 25 mph winds.  Needless to say, deer movement had been a little bit slow thus far, but some of the other hunters in camp had seen a few good bucks on their feet, so our hopes were high for the 2nd evening hunt.
The guys at Heartland Lodge were working hard to put everyone on good deer, but the weather was making their jobs extremely difficult.  As my guide Matt, better known as Yankee, walked me towards my afternoon stand that 2nd day, I began to get a good feeling about my chances.  It was overcast and just barely spitting rain, and the deer sign was unreal.  There were rubs all over and we counted nearly 15 scrapes on our short walk.  My stand was located in a thicket just off a large overgrown field, and the whole area just looked like buck paradise.  As I settled into my stand, I began my usual ritual of ranging surrounding trees and other various objects to ensure I would be ready in case a deer popped out of nowhere.  There was one particular spot in front of the stand where numerous trails converged at a small drainage crossing and based on the amount of use the trails were getting, I figured it was likely any deer I saw may end up there before making their way to the field.
As the afternoon wore on, I quickly lost count of the squirrels and began wondering when the constant rustling in the leaves would materialize into a deer.  Around 4:20, I decided it was time to wake up the woods.  I grabbed my grunt call and let out a few deep bellowing grunts followed by a few soft tending grunts.  Much to my surprise, about 2 minutes later, I heard footsteps coming my way.  Every squirrel I heard up to that point I tried my best to make myself hear a deer walking, but this time…I knew it was a deer coming in.  I quickly spotted legs through the woods and grabbed my bow just in case.  After a moment I could see antlers and began to get excited.  At first, I was not sure if the deer was a shooter, but as soon as he cleared the trees he was behind, I knew this could be the buck I'd been after.  I readied myself for the shot only to notice two more deer behind the lead buck.  I had a good broadside shot at 30 yards, but elected to pass in case one of the rear bucks was bigger.  I quickly examined both and decided the front deer was the best and I came to full draw.  My heart was racing and all I could think was don't mess up.  I anchored, settled my pin and slowly begin applying pressure on my release.  My bow sent the arrow racing towards the bucks vitals and as I watched the lighted knock smash home, I knew I had made a good shot.  The buck mule kicked and ran about 35 yards before going down.
Despite my enthusiasm walking into the stand and my guides reassurance that this was a great spot, I was still somewhat surprised that it had all come together that quick…but I was in for a bigger surprise.  After my buck crashed, I heard stomping as the rear deer approached my stand.  As it turns out, I did not get quite as good a look at him as I had thought, and it turns out he was a fair bit bigger than the buck I had just shot.  Still though, nothing could dampen my spirits as I had just harvested my first Pike County Buck.   I quickly got Yankee on the phone and soon he and another of the guide Allen were dragging my buck to the truck.  Although he wasn't the biggest deer running around these woods, I was thrilled to have taken him.  He is my biggest deer with a bow to date, and hopefully the first of many bucks harvested at The Heartland Lodge.  I can't thank the staff at the Lodge enough.  Everything here is top notch.  Food and accommodations are like nothing I've experienced, and good as they may be, the hunting tops it all."
Rich Peace
Last Updated: September 9th, 2022