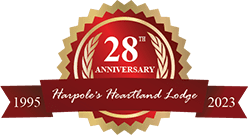 Purchase a Gift Certificate for Your Deer Hunter
Still have to play Santa and need a good idea for the hunter in your family? A gift certificate for a whitetail hunt at Heartland Lodge is a perfect Christmas gift for that special someone on your list! This unique gift will be one that they will never forget and will sure to be used. 
We have many different options available. You can purchase a specific hunt type. We have a deer hunt for every budget. We have Early Season, Rut and Late Season along with Archery and Gun Hunts. All of our deer hunts are Free Range Hunts.  See more about our deer hunts here>>
You can also choose from a three or five day hunt package. Three day deer hunting packages are offered during the first three weeks of October, and after Thanksgiving for archery and during the November & December gun hunts. Five day deer hunting packages are offered from October through January for archery.
Some like to give a specific dollar amount towards a hunt. By giving them a certificate they can choose the best dates for them to stay.
See a complete listing of our rates here.
Our gift package with the certificate included will be a nice surprise when that special someone opens it.
Go to any of the following pages for more information on our deer hunts:
Illinois Archery Hunts                                          Deer Hunts Available
Whitetail Deer Hunting Main Page                      Illinois Gun Hunts
Early Season Whitetail Hunting                           Hunting the Illinois Rut
Late Season Whitetail Hunting                            Real Estate
Call us at 800-717-4868 or e-mail at Info@HeartlandLodge.com and we will make sure you get the right package for the hunter on your list.
Last Updated: November 28th, 2012